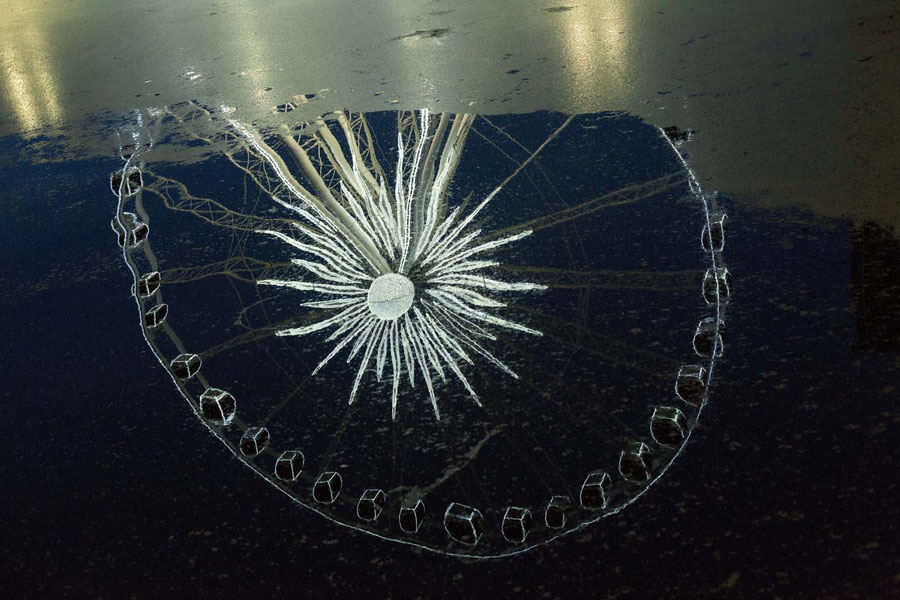 In Swinouscjie, I got on the train to Gdansk and drove along the coast of Poland. I knew I missed a lot by letting the whole country pass by like this. However, I felt that I would be able to travel to Poland at any time, even if I was older, had children, or was otherwise restricted. This conviction was a little strange and unfounded, as this was the first time I visited our neighboring country but still... It was beautiful and full of forests. The train was incredibly cheap, fast and comfortable. The railway stations were either made of ready-made concrete, built during the Soviet era, like they can also be found in East Germany, or carved from wood, like before the world wars. They were made to look old. You got a feeling for how grand it must have been then, when women in furry coats, corsages and grand hats waited for steaming trains to take them away...
Over the internet, I had arranged with a young Polish woman that I would stay with her for the weekend. She and her boyfriend lived outside the city, in a nice little apartment. She had already had many positive reviews and had agreed to let me sleep on her couch. When I arrived, I stood in front of a brand new residential complex, secured with a fence and accessible only with a password. E came down and led me up. She was some years younger than me and there was instant familiarity between us, as if I had known her for a long time. For both of us, the Couchsurfing saying was on point: You have friends everywhere, you just don't know them yet. E was not even twenty-five but already lived with her future husband in a condo, and was working and studying at the same time. B, her fiancé, was a little older, and the apartment belonged to him. He was a quiet and friendly young man. They showed me where everything was, I settled down and we sat together at the dining room table. They heated up a delicious lunch and joined me for an early dinner. It was super nice to eat something warm again. Together we made plans for the weekend. The two had a tight schedule. In the evening they intended to visit E's sister and her baby. Since I felt that it would be ok if I explored the city instead, I did just that. We met later that evening and went out to drink some beer. On Sunday morning they wanted to go to church, afterwards a big lunch was planned and in the afternoon we wanted to drive to Gdynia, one of the most beautiful places in the region. On Monday, both would have to work and I would have time to go to the city or to organize the trip a little further. I opted, of course, for the second option. There was so much to do...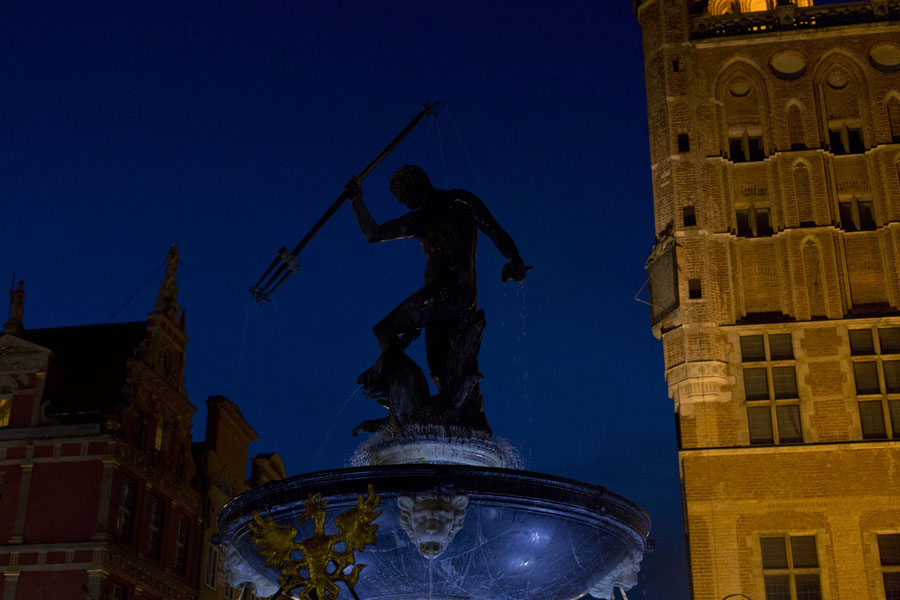 I started my evening stroll in Gdansk in the town centre. After my day of travel I was glad I could spent some time alone. I didn't have the balance down between being alone and experiencing stuff with other people. Talking to (especially new) people took a lot of energy. Traveling was the same, especially while my head was brimming with new ideas, plans and problems. Combined it was a little much for me. The town was beautiful. The old houses (all rebuilt) had Hanseatic charm and the red stone beamed in contrast to the bright blue evening sky. The colours were difficult to capture just right. The streets were crowded with tourists. Most of them were overweight and drunk Germans. I felt strange between them. Apart from the tourists and the typical and omnipresent tourism spots, there were some excellent street musicians and couples of all ages. For the first time, I saw a "stoop" outside of America. I've never been there but from movies I know the stairs in Manhattan pretty well, where many film characters (from Carrie in "Sex and the City" to Lena in "Girls") shed their tears. In any case, these "stoops" in Gdansk were in some way ahead of those from Manhattan. They looked much bigger and together with the narrow houses the proportions were almost funny. Is this what Dutch craftsmen brought to Gdansk? Does anyone know?
Later, I met up with E and B and drank banana beer for the first time in my life. Yes. You heard correctly. Beer with a mashed banana in it. I'll try anything once! E explained to me that in her world women drink beer mostly mixed with syrup or bananas. Pure beer was considered as something very masculine. In general, gender roles seemed to be lived much more traditionally here. I read a little bit about the current feminist movement in Poland a couple of weeks ago and therefore I found it fascinating to see what kind of background they stand against. (If your interested to know what is happening in Poland, read this and than continue via google...) My solo travels and my feminist views were a bit out of place here and for the first time (but not the last), I was warned not to become a man. (A fear that is completely foreign to me.) It says something about the community of people on Couchsurfing that we enjoyed these discussions, despite our very different point of views. After our extensive beer tasting, we jumped on the bus. At home, a pack of Cheetos, vodka, and home-distilled cherry schnapps were put on the table and the evening continued in true Polish fashion. I was introduced into the rituals of vodka drinking. The order and the meaning of the toasts, the whole etiquette of this event, was very interesting. Afterwards, I was so tired that speaking English was no longer easy for me. The alcohol gave me pretty much the rest, nevertheless (and I am a bit proud of that), I managed to formulate a metaphoric toast on the cherries on top (of a cake, but meaning life). E and I moved on to drinking the cherry schnapps, B stuck with the male version. When the cherry schnapps was empty, we took that as a sign to go to sleep...