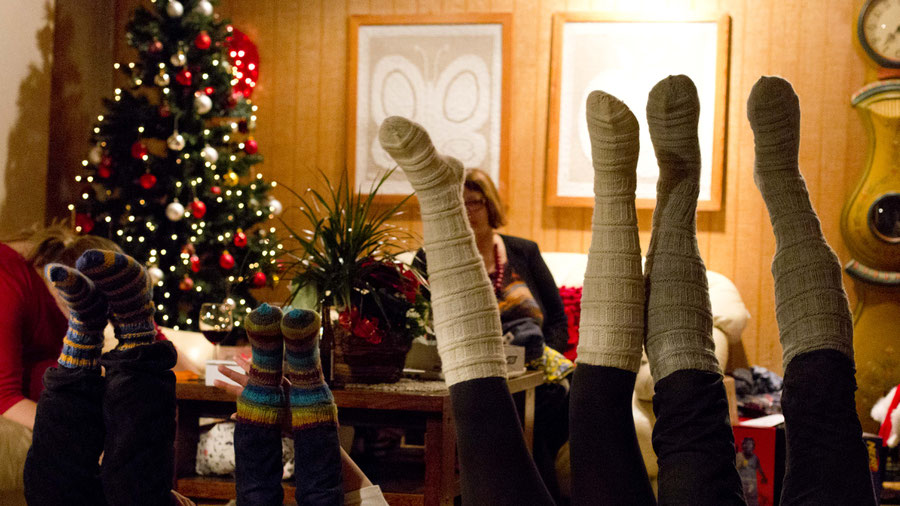 My host family was so kind to invite me to their celebrations. We drove about 600 km to the north, to Kalajoki, where my host mother's parents live. Kalajoki during summer is the Las Vegas of Finland. In winter, nothing is happening. It's not far enough in the north to be snow prove in December, which means that their favourite pastimes (skiing, snowmobiling, etc.) can't be guaranteed. Most Finns go to relatives or directly to Lapland. Whether you believe it or not, although at the beginning of November there were twenty centimetres of snow, they were gone by December. We left a snow-free Helsinki. In Kalajoki we arrived on thoroughly icy roads. On the ground, there was grey snow. On the radio, they announced showers, but it wasn't clear yet whether they would fall as rain or snow. I had hoped for a magical white Christmas, and I was already beginning to think about ways to suggest beautiful, snow-covered landscapes regardless. (But I was lucky again, snow would come.)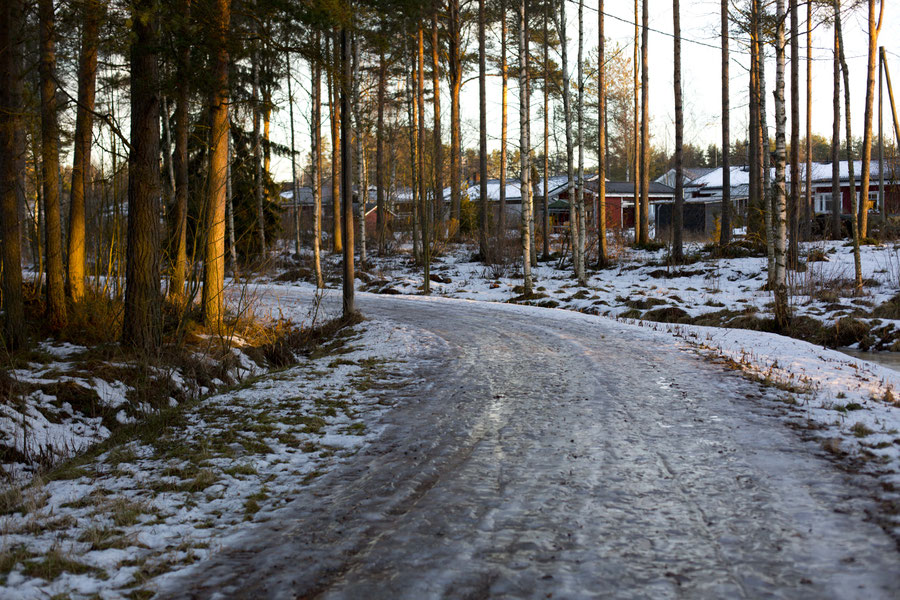 The next morning, the 23rd of December, I woke up in the dark. I heard the kids play in the next room and somebody in the kitchen. Still pretty sleepy I grabbed my mobile phone which lay somewhere near the desk. It was 9:30. I was lying in the former room of my host mum, which was used as her parents' office today. The most prominent feature was an old Windows computer that, during the day, was quietly humming on the bureau. Outside it was still dark. My sense of time had been thoroughly disturbed by the short hours of sunshine. Not that the sun would not appear at all, but the light was quite different. If there were no clouds in the sky, the sunrise and sunset would last for two hours. The light was warm, almost golden and stood in stark contrast to the cold snow. If a cloud cover hangs above the sky, like a giant diffuser, the hours of sunshine are much longer. Sunrise and sunset are hardly noticeable. The light is simply and unceremonially gone within ten minutes. The six hours of sunlight on such a day, are almost like a full day at home. If there is good weather and one can enjoy the splendour of the sun, it's as if the day overflowed with epic sunrises and sunsets for four hours. Although I am ecstatic every time, I have not yet gotten used to it. I'm starting to get tired ten minutes after sunset. When I get up, I feel the same. Every morning I feel like I wake up very early. However, I never sleep less than eight hours. This feeling of timelessness - I go to bed at eleven or twelve and feel like it's after midnight at three or six o'clock in the morning - is put a stop to only by the fact that experienced Finns surrounded me. As long as I follow their rhythm, everything was fine.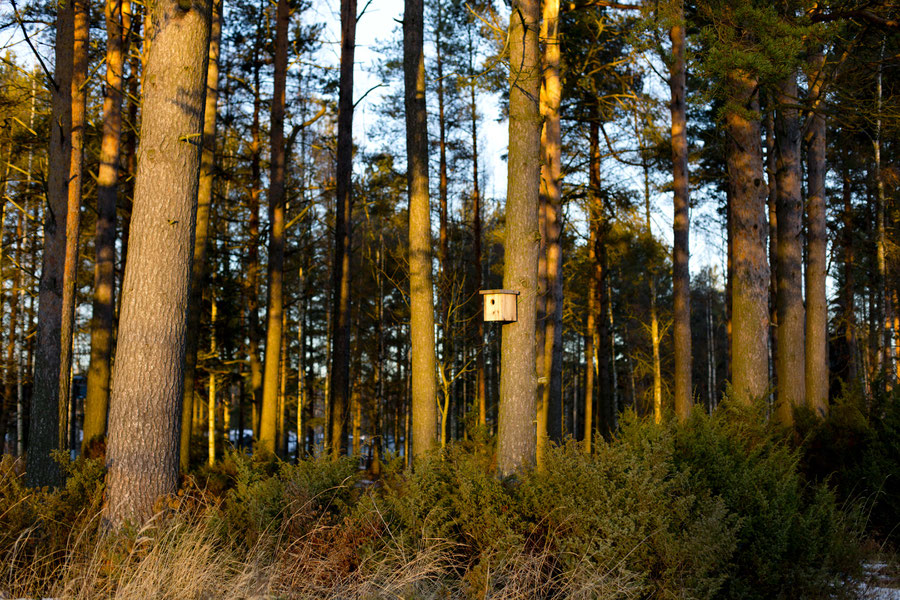 Although my Finnish family spoke English and German, our hosts didn't. I dove head first into the foreign language. For the first time, I heard differences in the way they talked. The father of my Aupair children spoke Finnish with a hard, jagged and medium strong rolling R. The grandparents spoke soft and round, whereas the kid's uncles girlfriend chatted fast, round and with a big rolling R. Here, Southern, Middle and Northern Finland were gathered at a table. I was still far from understanding anything, let alone assign the accents, but it felt great to dive in so deeply.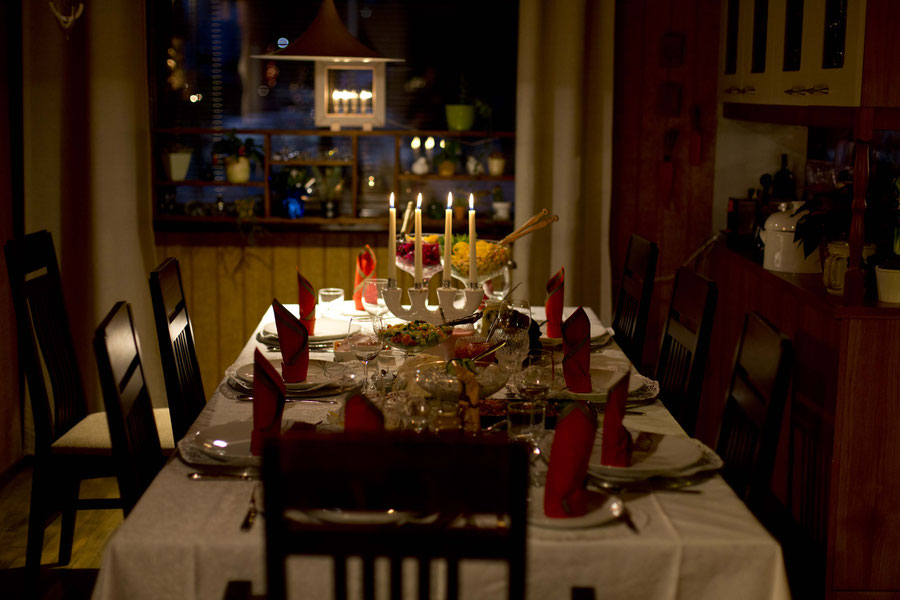 Every day there was plenty to eat. Each meal was similar, but something new got added every day. There was no culinary boredom in sight. On the table stood some salads, pies, fish and homecooked ham (I have never tasted anything as delicious). For dessert, there are different cakes. One is more delicious than the other. Every day, I ate enough, but never as much as in Germany, since I have tasted most of the stuff already the previous day and know that they will also be on the table the next day. Since these dishes get served predominantly at Christmas, it's not a problem for anyone to eat them day after day. On the contrary, everyone has been looking forward to it all year.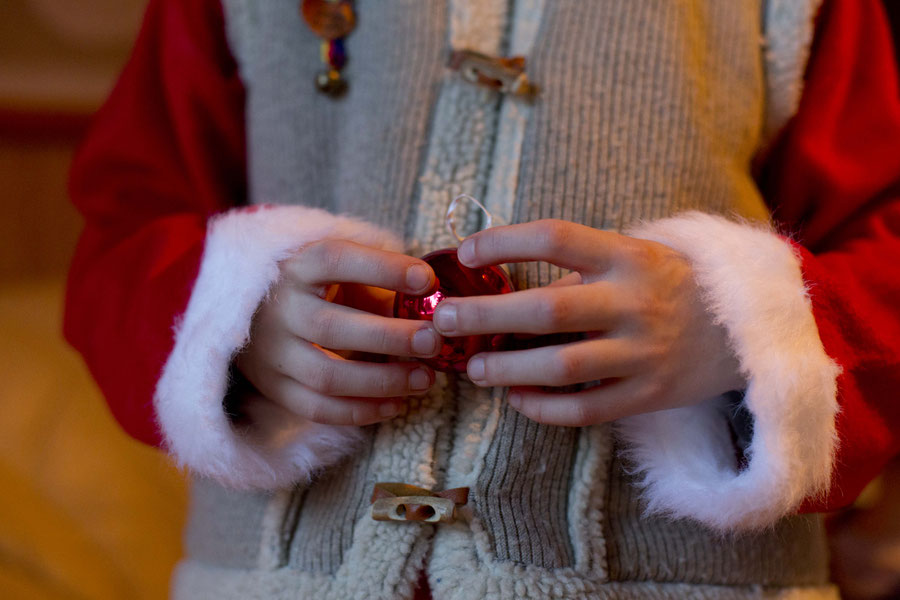 On the 24th of December, Joulupukki, Father Christmas, comes. The children are all dressed up in their red Christmas costumes, with red caps and fancy vests. With a bit of ceremonial and bobbling, the Joulupukki paved his way to the largest chair in the living room and sat down. The whole family greeted him with a Finnish Christmas song. In reply, the Joulupukki said a short thank you. We seemed to have caught a timid Father Christmas. (Or was he just Finnish?) He began to distribute one gift after another. A. and M. took all the gifts and delivered them to the addressees. There was great joy in various responses to size and packaging of the gift. Above all the uncle managed to multiply the fun of all with intense and exaggerated expressions of pleasure. The children began to hoard huge gift mountains. It was almost more exciting to get yet another gift than to unpack the gift itself. The room, had a wonderful atmosphere of expectation, joy and serenity. When unpacking, it quickly became apparent that the children had picked their favourite gifts already. The youngest slipped into her new princess's dress, the tiara got polished and put on. It wouldn't be taken off until the drive home. The boys jumped into their Lego Ninjago costumes and started to fight. Overall, it was a cosy and peaceful Christmas Eve. After a festive meal, an excellent dessert and good conversations, we sneaked into bed, one by one.