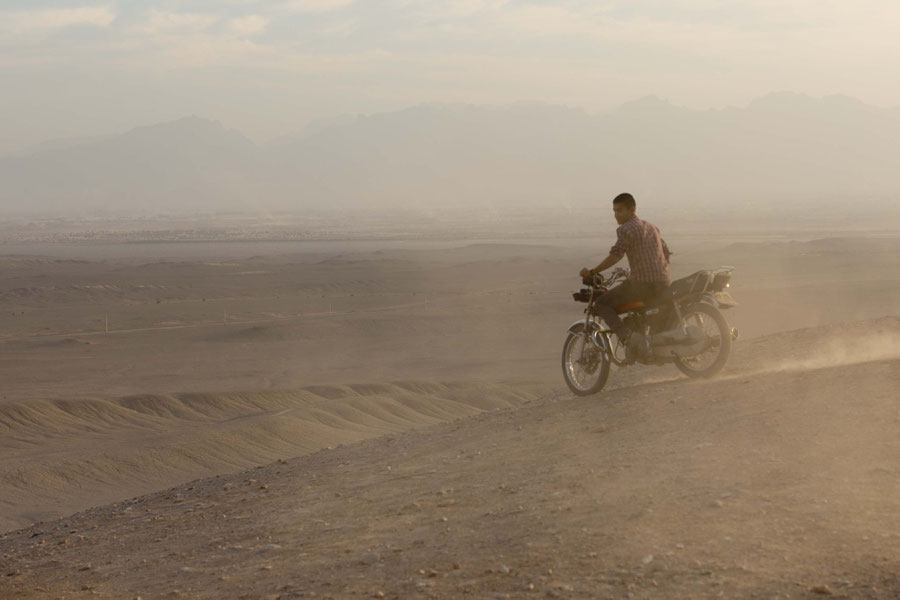 The bus ride to Iran is an adventure. R. (from Alaverdi), who happens to be in Yerevan on my last day, drinks coffee with me and puts me on the crowded bus. I'm sitting in the back, with a pack of men. The women are all in the front rows. Here, I get a taste of what awaits me in Iran. Fortunately, I have a single seat that is separated from the gang of young men travelling in the back of the bus.
I am the only foreigner. And the Iranian men have fueled up properly. I am not delighted. It will be exhausting. So, I put on my bitch face and am extremely rude. I don't let myself get involved in any conversations and tell the men of that are leaning on my seat. After a short time, they realise that the German is not interested. Only when we get stuck in the middle of the Armenian mountains in thirty centimetres of snow and slide neatly along the serpentine, a young man dares to ask if I'm afraid. My forehead still in sleepy wrinkles, I try to examine my demeanour. Such a stupid question. The bus driver is putting on snow chains so that we will be on our way soon. I tell him, I'm not worried. That seems to impress him. I have long learned not to nurse such concerns. I should not have gotten in any Mashrutka or car for that matter. The bus driver makes this journey every two days. He knows what he's doing.
And then the sun rises, and I walk through the no-mans-land between Armenia and Iran, impressively situated between two mountain ranges. Nothing moves but a few stray dogs. To my surprise, I'm not invited to an immigration interview but waved through and classified as a "good woman". I am officially a teacher here in Iran and, as such, I am recognized as a woman of substance. At the same time my appearance is scrutinized by all men (and a bit more hidden from their wives). A man travelling with his wife cautiously gives me an Iranian candy bar and is delighted when I testify to its good taste. I'm still not talking to the other guests. I feel like I am in a zoo. I want to go on, but the bus takes time to be processed. I don't feel protected by the hijab. There are too many - meanwhile sober - young men around. That's why I get two marriage proposals on my first three meters in Iran. (FUCK YOU, I'm not for sale.) M., the young man who had questioned me when we were stuck in the snow, reluctantly translates it. He thins out the dirty talk and makes it sound like almost friendly comments. I'm sure his translation doesn't deserve its name.
Then, my bus driver forgets me. After being stuck in the snow for two hours, he still hopes to arrive on time in Tehran, and thus he drives past Täbriz. When I make myself heard with the help of M., the young Iranian, he stops on the highway, gives me my backpack and cheekily recommends me to take a taxi. My Iranian protector (at the age of 23) makes the appropriate fuzz and gets out as well, to tell the highway control what cab they should call for me (there are some different prices and options, etc.) until the taxi arrives. I'm told to wait in the prayer room, because these are everywhere, even on the highway.
When I finally get out in Tabriz, the thought that I'm crazy passes through my mind. To ring a stranger's doorbell alone, in a foreign country whose rules I don't understand yet, IS crazy. But once again I trust my gut feeling. S. and her sister H. are friendly, very Western-oriented young women, who are fed up with wearing headscarves and the code of conduct imposed on them. It doesn't take long for them to tell me about their difficulties and struggles. A frustration that I don't fully understand, but soon will.