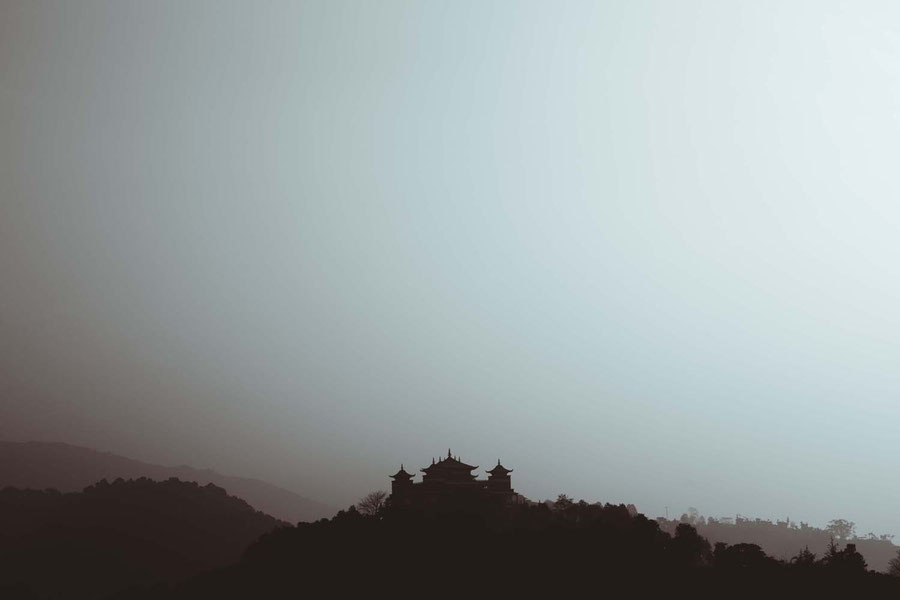 On the other side of the border, houses are tightly nestled together. Although the road is worse on the Nepali side, people are calmer. Nobody speaks to me. When I ask for information, they give me a direct and uncomplicated answer. I go to immigration, get my monthly visa and pay my fee in Indian rupees. Many reports have prepared me for possible corruption and yet I don't encounter any. When I buy a bus ticket, I pay less than they say on the internet. My salesman takes me right up to it, politely explains where I should get off, checks several times if I don't want to have breakfast and makes sure my backpack is safely in the back. I watch him suspiciously at all times. I can't believe that they aren't trying to scam me. Nothing happens. I am no longer in India. The people are different, definitely friendlier.
The bus I climb on is decorated with silver wrapping paper, Hindu protection insignia and mantras. On the bus are locals and two huge packages. I am the only foreigner. Out of ignorance, I sit directly at the door. As the busboy yells out of the open door (to pick up other passengers), I spend the next eight hours freezing. Although I'm grateful for the fresh air, the smells on the bus are unpleasant. The cold settles deep into my bones. Together with my exhaustion from last night, it's a most unpleasant combination. At some point, I arrive in Bharatpur. There must be a bus to Sauraha somewhere. I get out and get knocked out of my feet by a heatwave. At my request, they tell me that I have to go to another bus stop. Since I only see one other on my map and the taxi driver demands too much, I walk. Maybe not the smartest idea, but it looks like I simply have to walk down the street. I quickly warm up and start peeling off my layers. It doesn't take long, and sweat gathers on my forehead. The roads seem crowded (later it turns out that I arrived on a public holiday), the locals are happy, and I see so many women in beautiful and often provocative clothes that I feel safe in my hiking pants.
When I arrive at the much smaller bus station, I'm told that I can ride the bus, but not all the way. The locals are all smiles, and everyone knows where I will have to get off. My backpack impresses the women. They pity me because I don't have a husband to carry my load. I wish I could tell them, that I exchanged that particular help for freedom. But it gets lost in translation. As the bus moves slowly in traffic and it's getting full, temperatures rise. The young girls, who arrive hot and exhausted with their mothers and aunts, don't take long to cuddle up to my broad shoulders. Since there is no room to breathe, I accept this unexpected demonstration of trust, breathe slowly and count the drops that tumble down my back. I can feel them sliding down to the deepest regions of my pants. I feel dizzy, but since there is no room for movement, I hold on to my pole a bit tighter. Soon I see black and stars dance in front of my eyes. After 22 hours travel time, my powers are at their end. As the bus is full, my dizziness goes unnoticed. I'm stuck between bodies. It's a blessing in disguise. I drift off twice before the bus comes juddering to a halt and it's my turn to get off.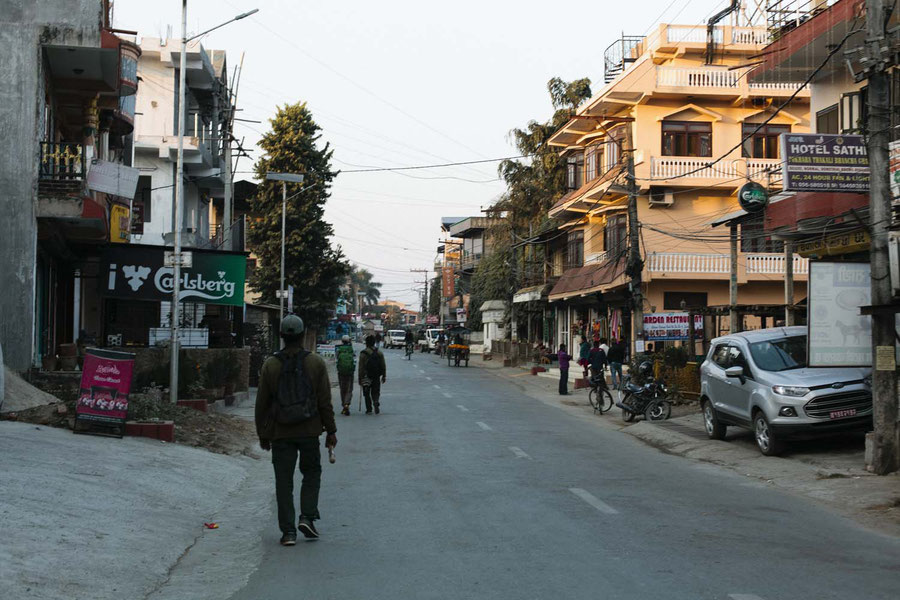 In the fresh air, I take a deep breath. I am far from my hotel. So, I accept the unacceptable and take an overpriced rickshaw taxi. I slowly recover in the welcome drafts the rickshaw produces. As I arrive, I am a new person and ready to meet the tigers.