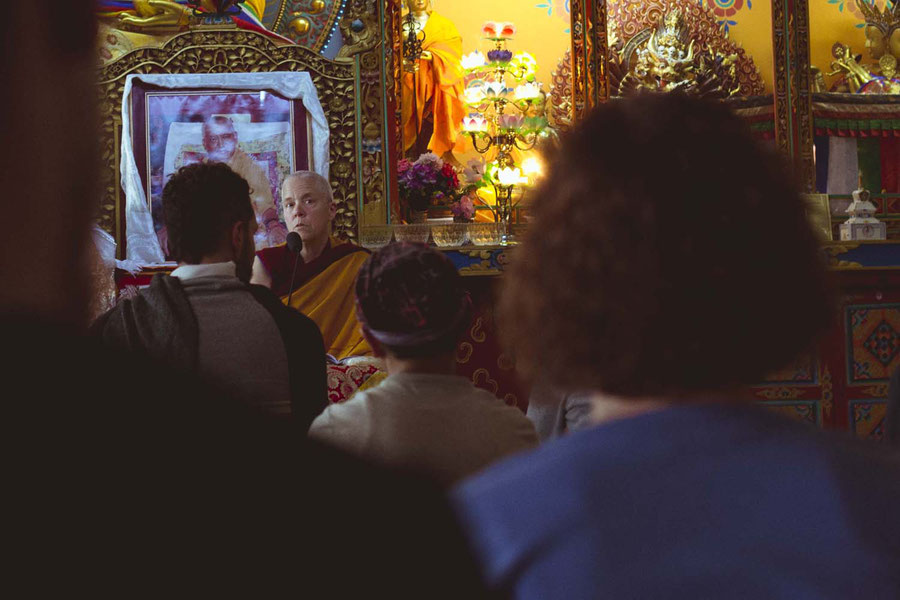 Back in Pokhara, I'm in the shower for the first time in five days. I let the water fall over my shoulders, enjoy the warmth that brings my muscles long-awaited relief and the smell of shampoo. My legs hurt after the day's march downhill. Each step is a reminder of what I've just accomplished. After showering, I stretch out on my bed and promptly fall asleep. Eventually, S. wakes me up. While I did the Mardi Himal Trek, she did the Poonhill Trek and together we are planning to travel to Kathmandu. She is on a spiritual journey, was in an Ashram in India and wants to go to a Buddhist monastery here in Nepal. I am curious and join her.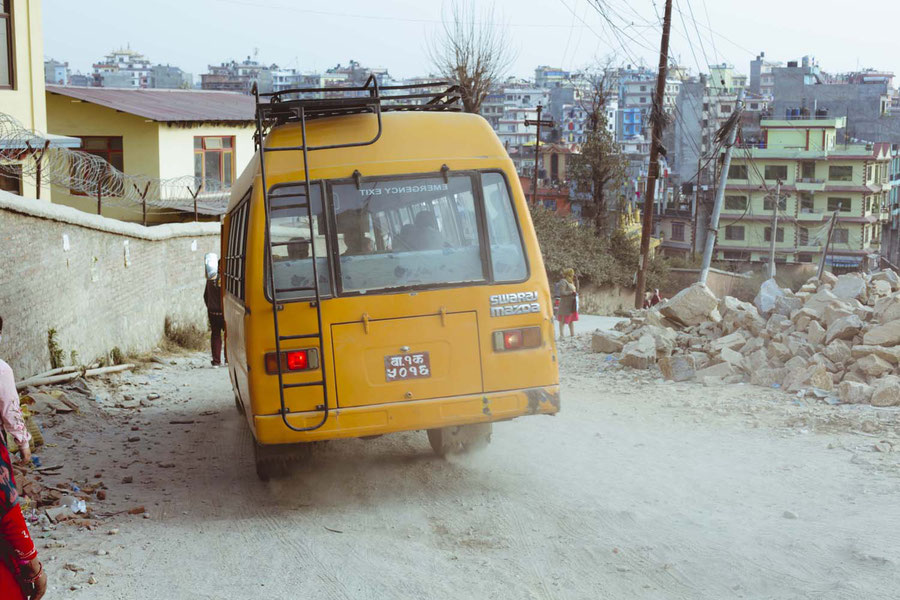 Once again we board the bus to Kathmandu, tumble around in the back and arrive after 8 hours and 18,837 potholes in Thamel. We find our way through the tangled and dusty streets of Kathmandu and finally find our hotel. It's a bit fancier than our usual abodes. But since we are two, we can afford a double room. We chose this establishment as it has a bathtub, at least the ad on Booking.com claimed. When we arrive, we realise, no tub. At least it's clean, and we probably should have searched for a hotel with a swimming pool. We spend a relaxing afternoon in Thamel and eat Italian. The tension on what is coming now increases. Our thoughts revolve around everything that lies ahead. One dreams of wild discussions, the other of endless meditation exercises. We meet J., another acquaintance from Pokhara, who also planned to go to the course in the monastery.
After a full breakfast, we stack up in a taxi and make our way to the other side of the city. The cab rolls up the mountain with difficulty, and on top one after the other we tumble out of the car and onto Monastery property. We are received by a young monk with 110 other students. We three get a four bed dorm, to which a young Swiss woman is added. We get to know each other and get comfortable. Our course consists of three daily teachings, two meditations, a discussion round and three meals. I am happy to be here. Because even though I quickly realize that I am resisting this religion intuitively, the people sitting next to me are more exciting than any god or Buddha could be. In the discussion rounds I feel how my education in Catholic school and the accompanying discussions have prepared me perfectly for this situation. I like to talk about different beliefs. I don't have any doubt about expressing or changing my opinion when someone brings in impulses that are new to me. Only in the discussion groups things happen in my head. It has been a long time since I was last in such a school-like situation. At the same time, it becomes clear that this is not the case for everyone. Many are talking about faith and religion for the first time. As a result, the discussions are always exciting and quite unpredictable.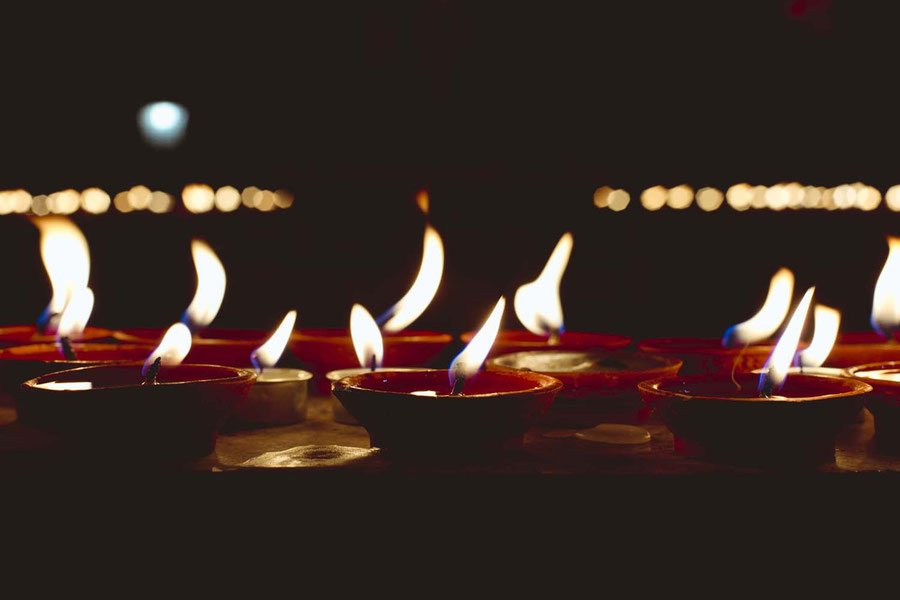 The meditations are different. That's when I realize that analytic meditation is not for me. It's about devoting oneself to a topic in order to understand it holistically and to look at it from all perspectives that one can fathom. We sit in the well-known meditation pose and don't move. Since most of us are beginners, that's a hurdle. Since the nuns don't teach for the first time, they give us alternative poses and yet we never settle completely. The meditation is guided, that means at regular intervals a calm voice interrupts my stream of thoughts to guide me back to the topic. That annoys me greatly, because often enough, I didn't stray from the topic. In addition, it's about old hats. (They assume that death is not thought about in the Western world, which may have been so twenty years ago, but it's far from my reality.) I dealt with most of the issues seriously before I left. Whether it's my death, the death of a loved one, or a friend floating in my orbit. Death doesn't present a problem for me, it's a reality I come to terms with. And yet, there are many around me who feel differently. Since I can barely sit still, with all the aggression in my stomach, I decide to not go to the meditations anymore. That makes everything better. It soon becomes clear to me that my meditation lies in my creative practice, in the writing of my texts, in photography. I am not looking for a religion because I have no need for it.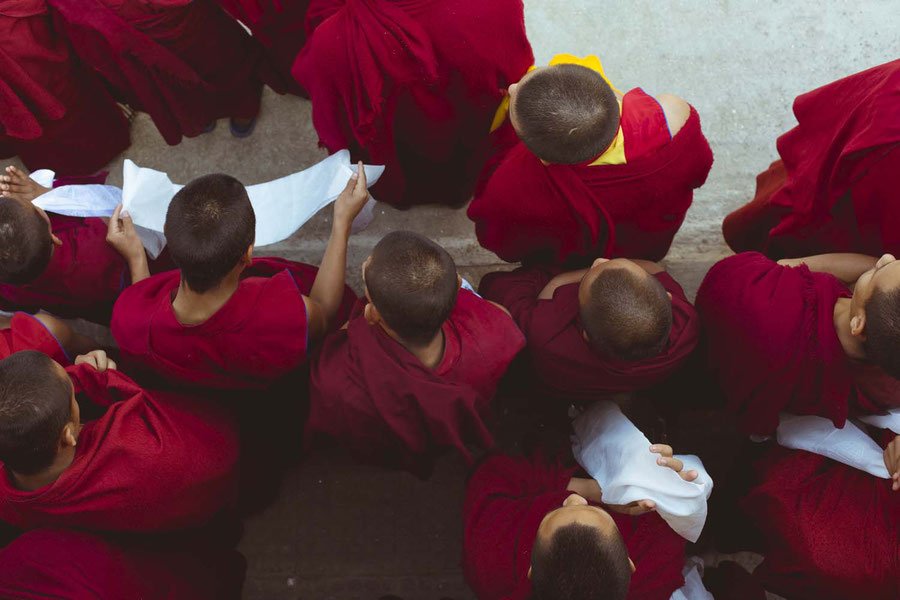 The teachings are a different story. It always stays exciting for me to listen to other people explain their religion and their view of the world. I will always be fascinated by nuns, especially. There are many difficult chunks to swallow. Karma is a big problem for me. For example, in my opinion it's not useful to see the victims of a killing spree as people who are harvesting bad karma. Likewise, to consider child death as something that has brought that being on itself seems cruel to me. As in Christianity, the concept of good and evil, of guilt and atonement, or of karma, is of no help. The world is so much more complicated than a bill of deeds that I cannot help but shake my head.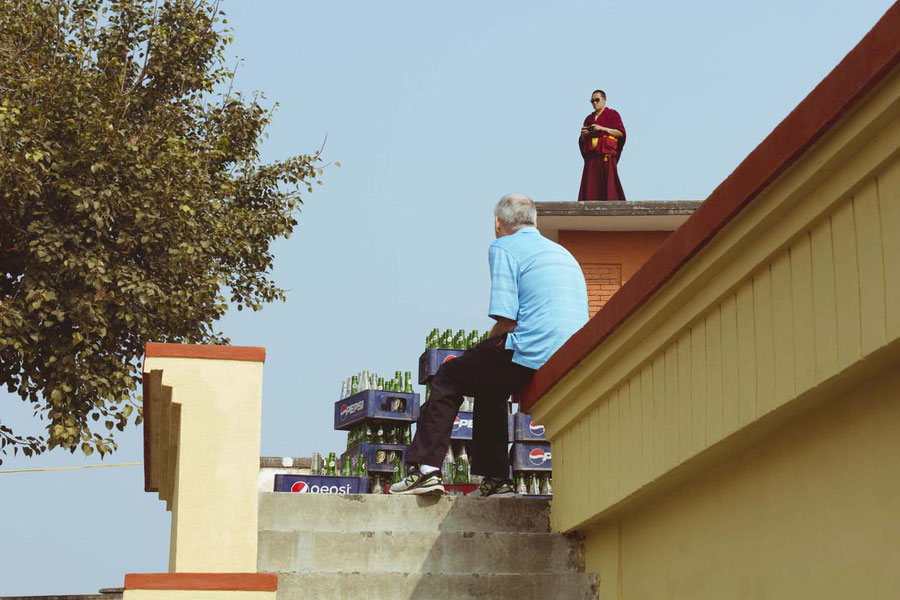 In the West, Buddhism is often diluted to make it more equitable to life. It's more a lifestyle than a religion. Here in the monastery it becomes clear that Buddhism is a religion. Not a lifestyle. Structurally, it differs frighteningly little from Christianity, Islam and all the other world religions. What the Trinity is in Christianity, is Allah in Islam and Buddha in Buddhism. The philosophy is underpinned by a strict man-made hierarchy that brings with it the same problems everywhere: lying, deception, exploitation of power, child abuse, lies and injustice. They are so intrinsically human that no philosophy or religion can eradicate them.