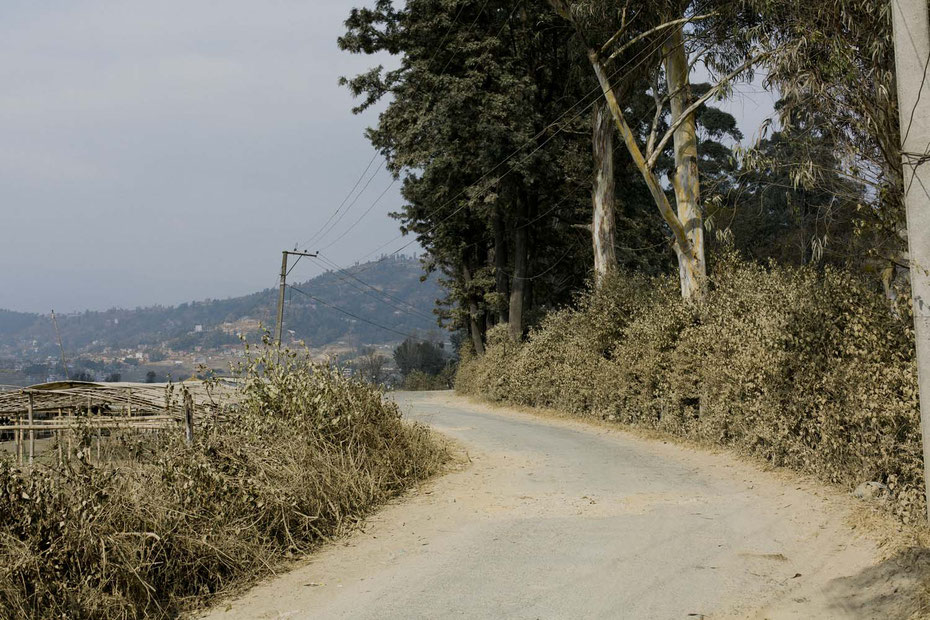 Every now and then something grabs my attention. I have a random idea, and nothing will make me change my mind. That's how it has to be done. It happened in Poland, Georgia and now here in Nepal. I want to trek from Bakthapur to Nagarkot. It should be about 15 kilometres. That's possible, I decide. I shoulder my backpack and take my first step. I walk out of the city, into an industrial area and then up the rural mountain. I didn't think of the mountains. Not really. They go uphill, of course! Consequently, I have to take a break every ten yards. Upward, a normal pace is impossible to maintain. I have scheduled four hours for this trek, which, of course, isn't enough. I get invited by friendly Nepali ladies to a deep-fried bakery for a break and then I slowly progress up the hill, accompanied by two young girls. We quietly pass the stupa. My uphill battle doesn't stop. I don't see anyone else walking this route. The locals seem surprised to see a tourist on their street. My head is red as a strawberry, I puff like a locomotive, and the water runs down my back in streams. I am a sight for the gods. But that's the beauty of trekking, I tell myself. All vanities fade. I'm in the here and now, busy putting one foot in front of the other.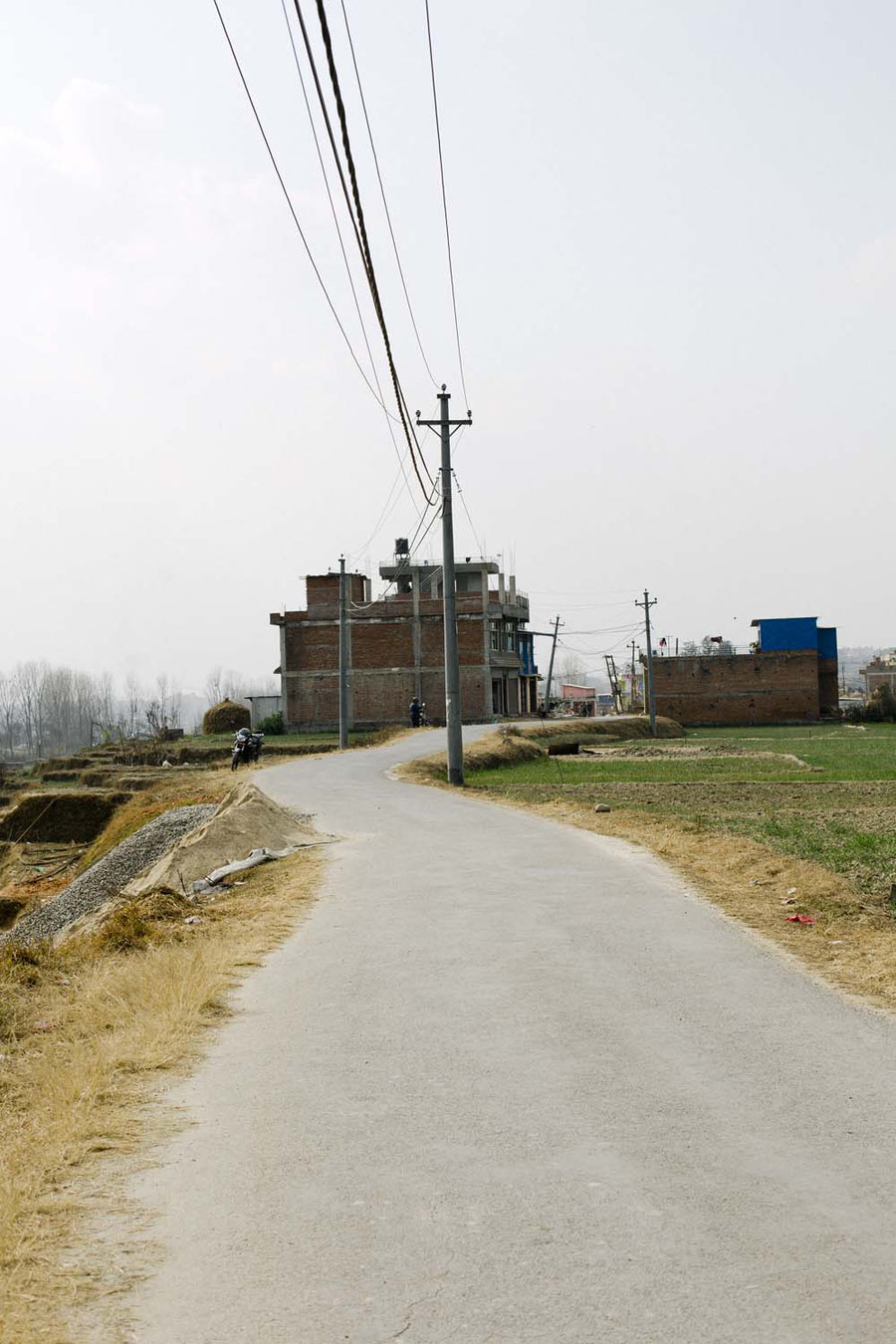 At each bus stop, I pause for a few minutes, catch my breath and wonder if I should wait and get the next bus. I decide against it. I develop an almost masochistic joy, chasing myself up the hill, one eye on my offline map. I'm halfway up the mountain, only 4/7, 3/7, 2/7, 1/7, half of that, etc. When I arrive in front of seemingly never-ending stairs, I pay a small toll (converted it's €1.50), which allegedly serves to rebuild the region after the earthquake. The stairs are new. At regular intervals, it leads up the mountain. It's not easy to crawl up, but at least every step is measurable progress and the view spectacular.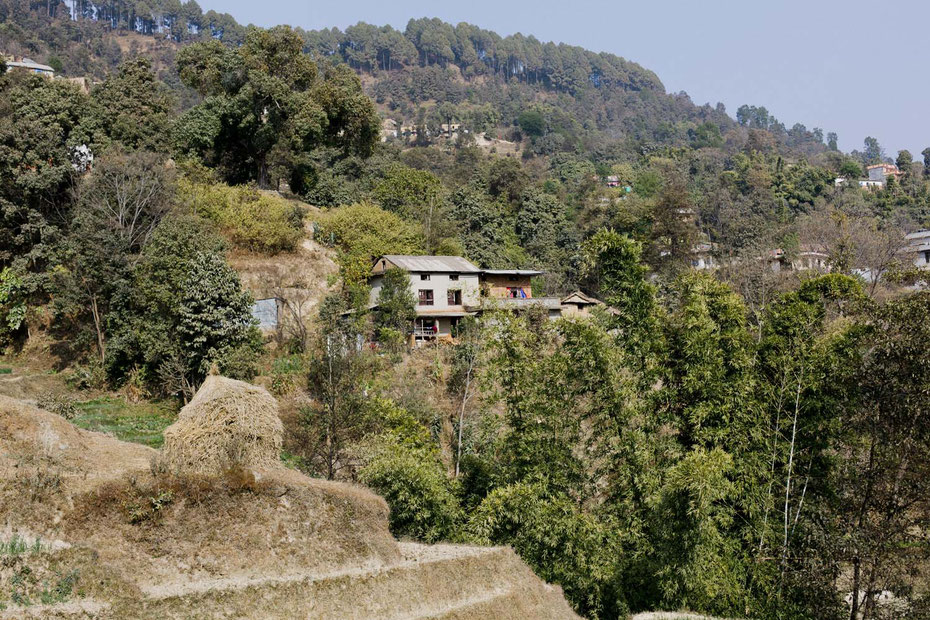 Twice I run past my destination. Finally, I knock on a blue door. No one opens, but I enter and shout until a frightened girl crawls out of a corner and shows me the way. P. is well known here. And indeed her house is on the road, but well hidden. To get to Sisters Homestay, you have to walk through the neighbour's garden, past his chickens and goats. Without encouragement, I would not have dared, but since it's now getting dark, it's urgent enough that I face the animals.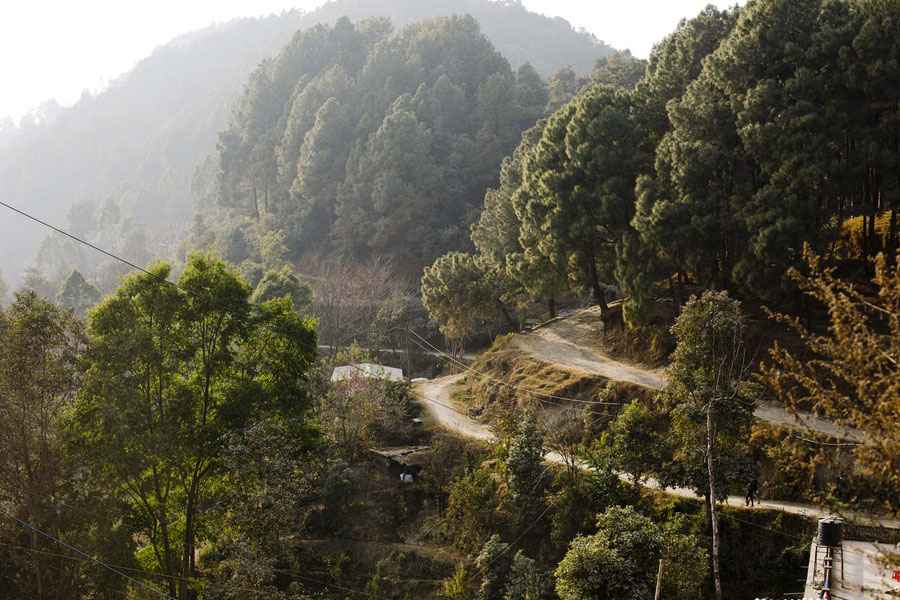 I arrive in a nest of volunteers. The four others who found this place via Workaway are Germans. All are typical for tourists in Nepal: young, alternative and vegan. Only my hostess is not there. She is currently travelling in India. What seems odd at the beginning doesn't turn out to be that bad. Two women manage the homestay and one of them is still there. The house is made of bamboo, wood and clay. It has three bedrooms of equal size, a shower and a toilet are in the garden. The fourth room is a kitchen. The beds are relatively hard but equipped with numerous pillows. The blankets are made of cotton. We are told not to sit on them, as the cotton clots and loses its warming attributes as a result. The warmth of the blankets is not enough for me. I 'lying under them with my sleeping bag and still, I freeze. In the first week, there is not much work, which helps me to process the last couple of weeks. I learn to eat with my fingers, how to make Roti, and I share my experiences with others. We have little connection, and yet, we all have chosen the same place. Strange how these encounters happen.