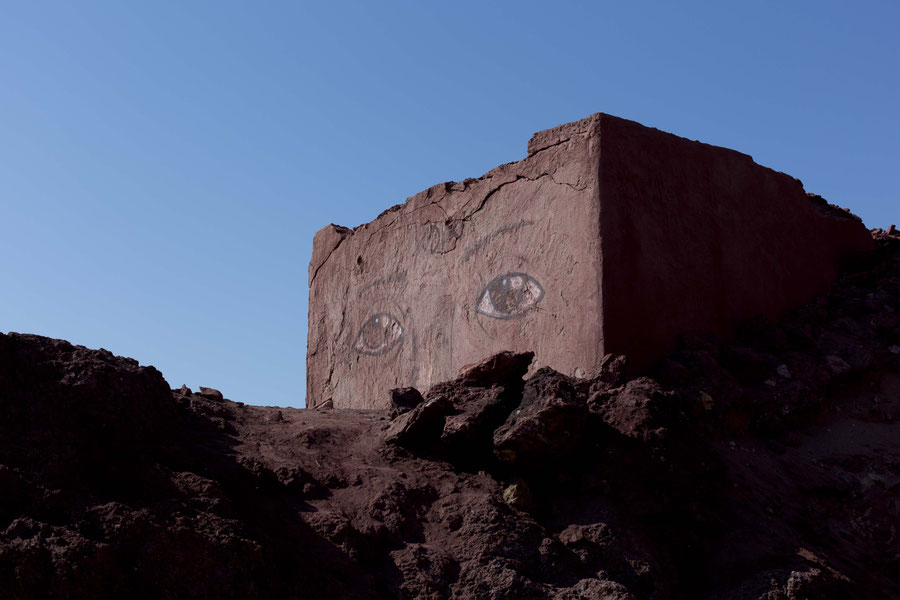 The wind is blowing in our faces. Hormuz harbour is brimming with life. Once again, J. has made friends with a young Iranian who has so little interest in me that I find myself judging him following Iranian standards. More than thirty, not married, interested in the handsome, blonde J., who, to make matters worse, also wears an earring. For Iranians that is proof of his sexual orientation. A circumstance that at first makes me smile, but when he spontaneously decides to come with us, I start thinking. Will this be another unspoken promise that will never be fulfilled? They keep adding up. Together we take one of the converted Vespas to the most beautiful corner of the island. That he pays, because we would prefer to walk, but he says, it's too long. Despite all my misgivings and doubts about J.'s way of travelling, I can't help but appreciate how quickly he brings us to where we dream of going. Of course, everything is unpredictable, luck and coincidence, but there are a few moments when I have to pinch my arm in disbelief.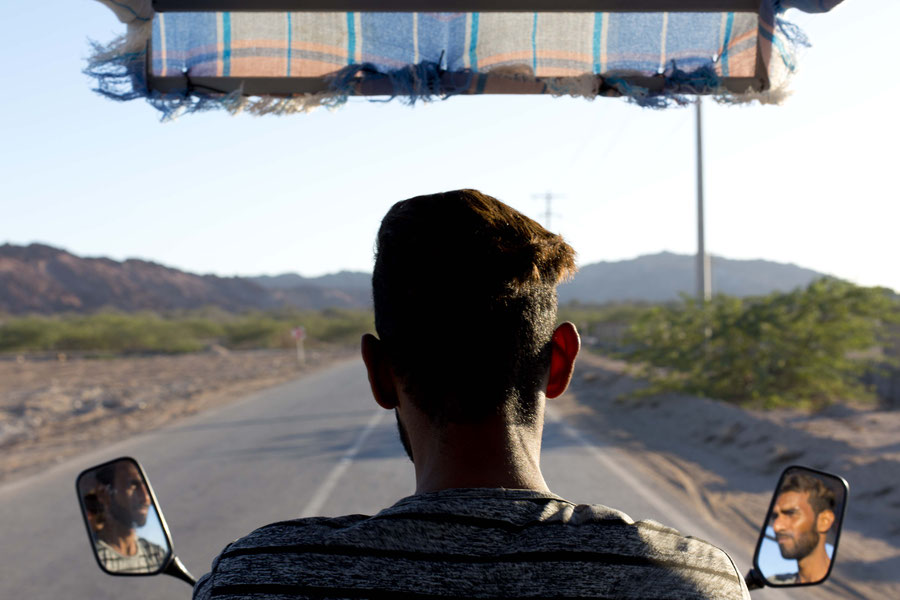 On the first day, we walk at sunset to a cliff, which provides stunning pictures. Rocks that form horse heads wildly rising over the sea. Then it gets dark, the sky takes on the colour of the floor, and everything is tinted in pink shades. We walk until the ground turns grey and turn into a ravine. After some climbing, we are surrounded by white rocks that sparkle in the moonlight. The only disconcerting things in this place are the loose stones that roll down the side of the gorge from time to time. I take a deep breath. Although I would love to stay here, after all, it looks like straight out of "The never-ending story", the others continue. I have no choice but to follow.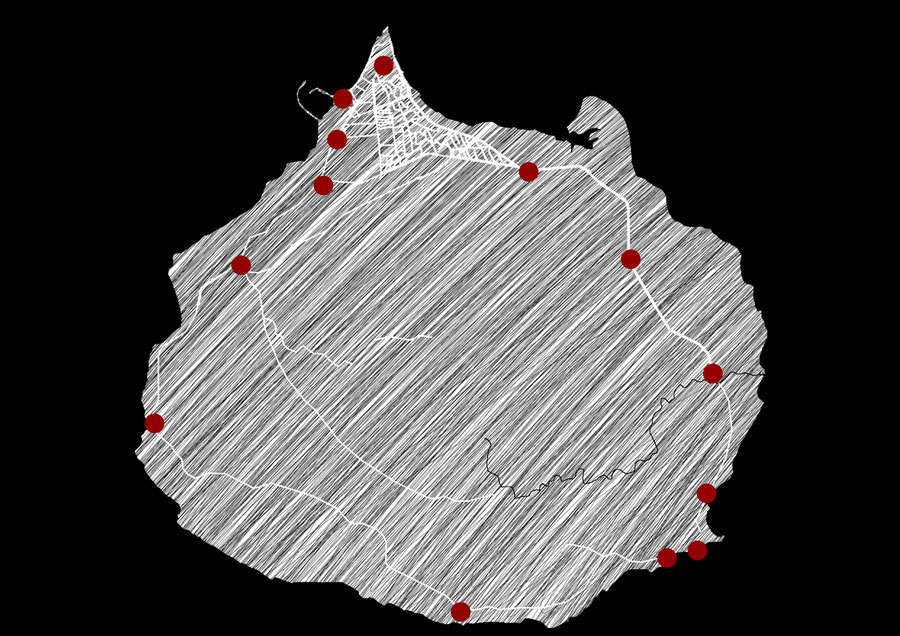 With our backpacks, we stumble along the gorge until we arrive at a long wide beach. We are not alone. Our fellow campers are young men. And I ask myself, did he bring us to a "special" beach? At the time, we had not seen the glowing plankton or the rainbow-coloured rocks and couldn't fully understand why this beach was better than the others we had passed. At some point, I think I see two of them hugging in the dark, and thus my thoughts are confirmed. I'm sure. We are in paradise. I feel safe and unscathed by the number of uninterested men on this beach, and so I dare to sleep without the outer layer of my tent. J. sleeps with it.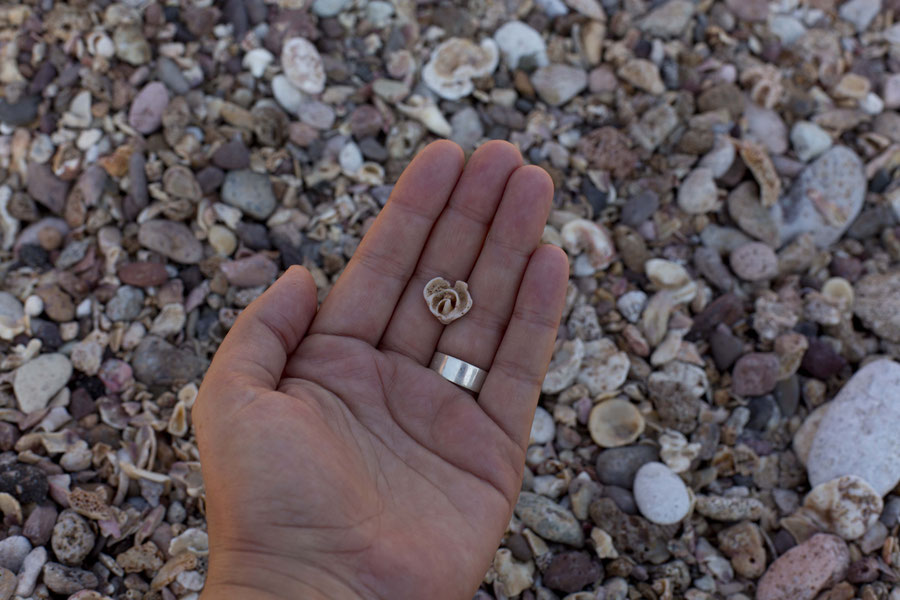 By the campfire, it turns out that the three other men, just like us, are a group of spontaneously thrown-together travellers. One of them, a German, is a sportsman by profession. A winter sport, but I forgot which, maybe ice hockey? It's a lovely moment with tea, thoughts of Finland and my mother tongue.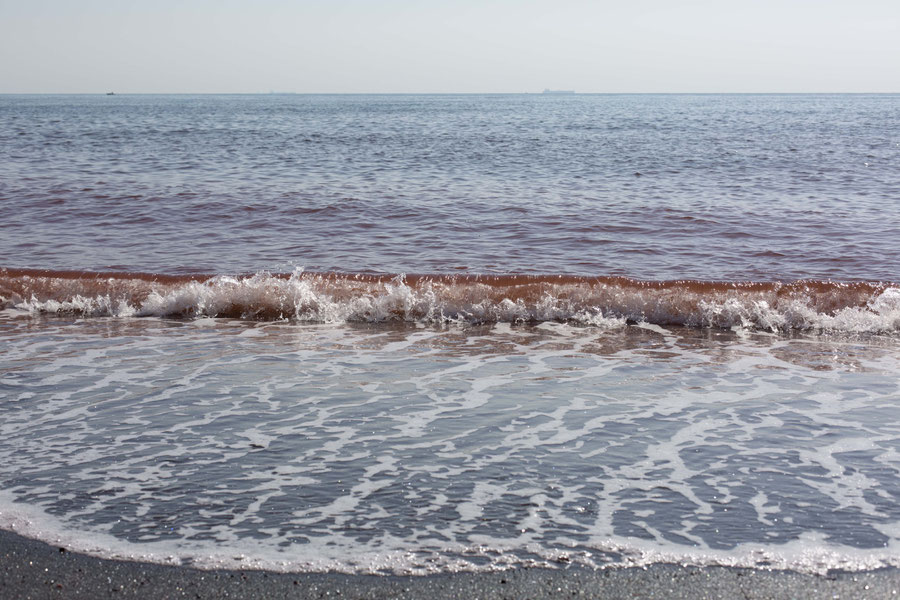 The next morning, after a beautiful sunrise and a sparse breakfast, we go on a discovery tour. We walk towards the sun to the pink beach, a tourist magnet, then turn around and climb over the imponderable cliffs on the other side. Again, we risk our lives. I can't help thinking of my careful and much more cautious sister, who always appears in my head in such situations. I know for sure that I am doing something stupid, but how else would I explore this wholly discovered island for myself? So we see intimidating white, red and yellow cliffs, giant tortoises gasping for breath in the surf and endless crabs, shells and the ever-present garbage.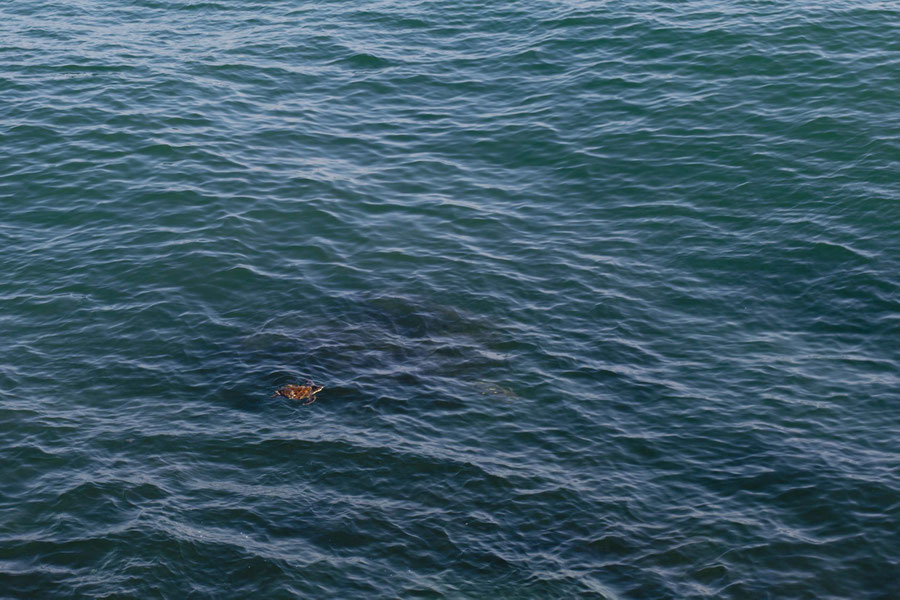 Since we have only two nights, we decide to search for a new beach in the midday heat. We don't have enough water. The merciless midday sun demands its due. Both of us are pretty dried out. We grab a 1.5-liter bottle of water from kind strangers and leave just as the next group of Iranian teenagers arrives. We climb back through the gorge. During the day it's not half as impressive as at night.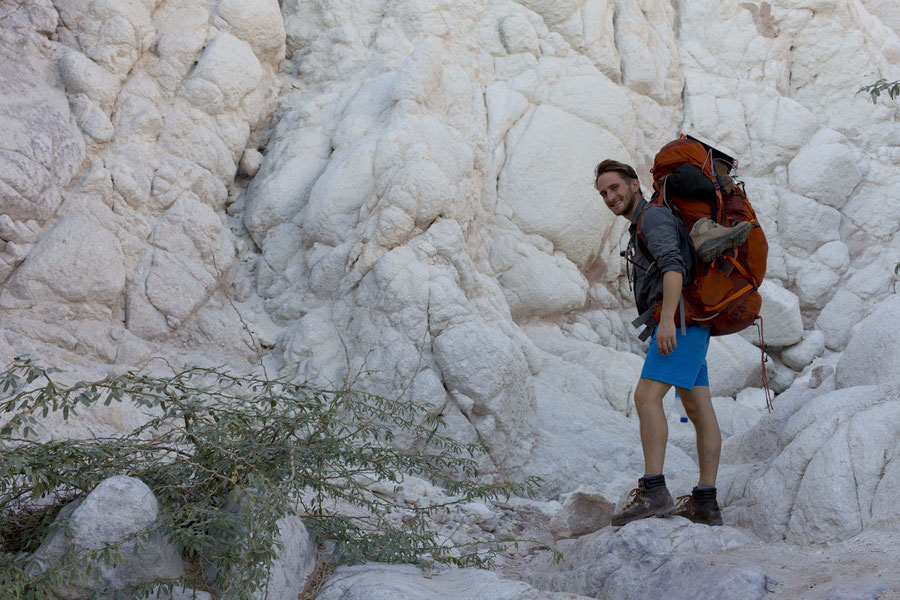 We walk along the sandy road for a while with our twenty-kilogram rucksacks. As always, it doesn't take long for the only vehicle that shares our way to take us with them. We drive right to this night's campsite but decide to explore more. It has now well over thirty degrees and every movement is too much. We arrive soaking wet. We spent the rest of the day swimming, wandering, and chilling. Our lack of water keeps us awake until long after sunset. J. gets up at some point to look for some water. He disappears in the dark. Ten minutes later he reappears with an extra large bottle of cooled water. Two hours earlier, when he pulled a fork out of the sand after I couldn't find my cutlery for the second evening in a row, he had boldly said: "If you need something, you find it." For him, that's universally true. He will find a chilled water bottle on an island, where the next shop is ten kilometres away even if it's in the middle of the night.
The next day we walk as far as we can, again without enough water, ten kilometres to the harbour. There is only one road on the island, and so we take one step after the other. We walk out of the mountains onto a large salt lake. On one side it falls into the sea, on the other the mountains grow out of the ground. They also have different colors here. It's unreal, beautiful and harsh at the same time. After half the way we give up and get into the garbage truck, which brings us almost to the port. Here on Hormuz, I begin to forget time and space. It's the first time in Iran. I'm here. Everything will be alright.