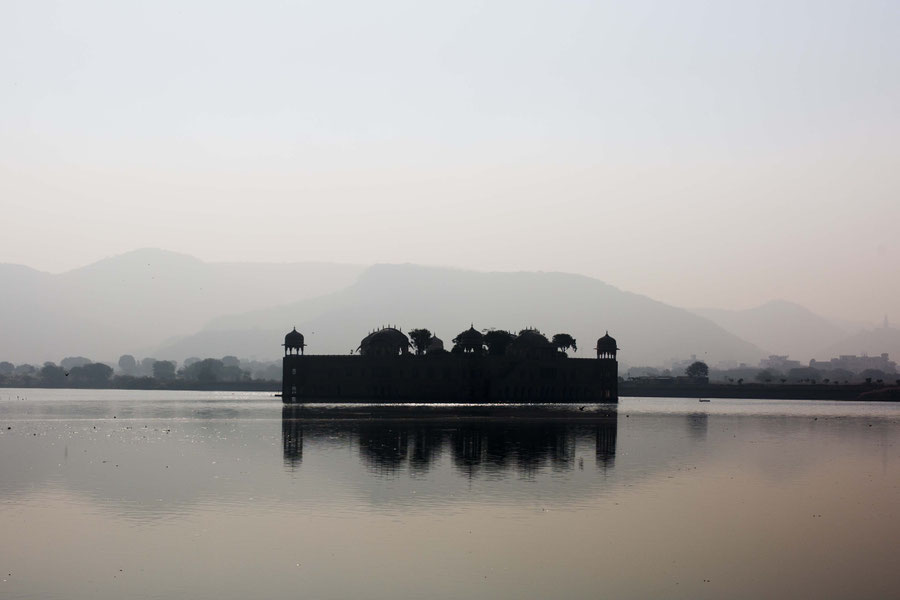 Arriving in Jaipur begins with fighting for a suitable rickshaw. A critical moment in any arriving tourists experience, as you are being stormed on all sides by drivers who want to earn some money. However, nobody knows where my hostel is (no rarity). I let the rickshaw driver of my choice (crucial detail) take me to the centre and eventually get out of the car after he deliberately drives to the wrong place, does not react to my instructions and finally gets stuck in a traffic jam. Thanks to my Maps.me app, I'm well oriented. I give him the 100 rupees we agreed on at the beginning and walk away in a rage. (It's not smart to not pay them in that situation because they come back to fleece you. Ultimately they are stronger than we are and what are 100 rupees in the grand scheme of things.) Taxi and rickshaw drivers are the worst professions in the world. They are scammers and generally up to no good. It's unproductive to think about it, and yet I do precisely that.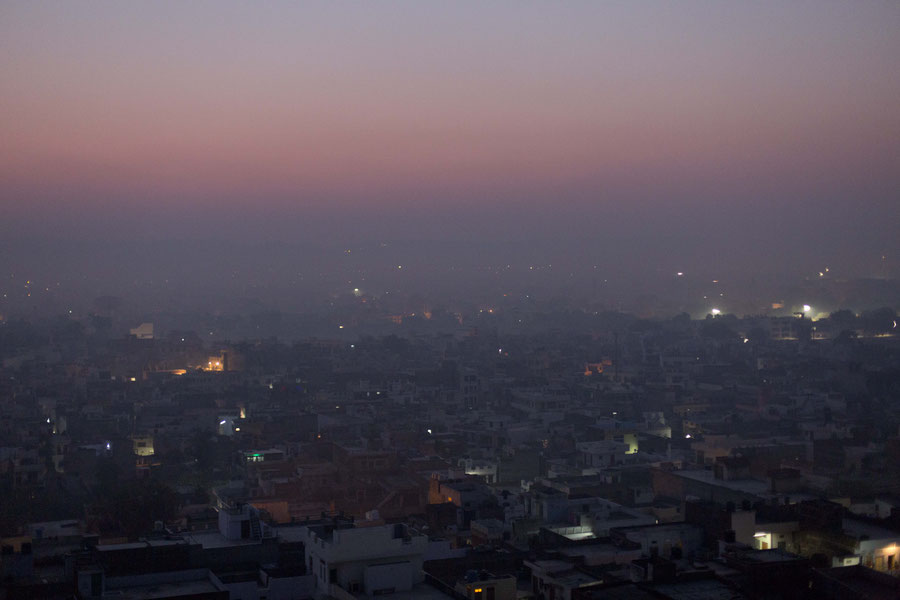 Jaipur is once again a town that bears the nickname Pink city. My first excursion takes me up to one of the numerous forts that characterise the cityscape. At sunrise, all is tinted pink in the smog. Of course, the nickname of the city originates not from the morning light, but because of its pink painted old town. The pink has long faded, the walls are crumbling, and yet the long-gone lustre of its heyday remains visible. How grand the receptions must have been, to which the Maharatscha invited the ton, how impressive the mansions. My first outing is with M., a British artist who gets up early because of the light. We want to go to a fortress for the morning light. He to paint, me to take pictures. We stumble upon the empty streets of Jaipur around 5 am. We're not sure if we would have done it alone, but together the rickshaw is only half as expensive and the journey through the narrow, dark streets just half as scary.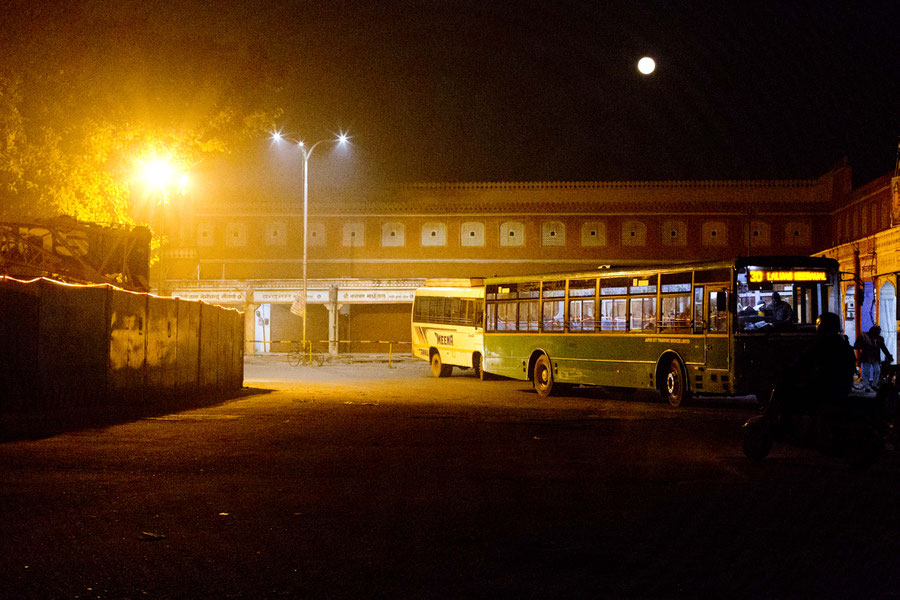 We are not the only ones who the fortress attracts so early, but since the area is vast, we can easily find an isolated place where M. spreads out his huge portfolio and I calmly and without regard for my surroundings climb the walls to chase the best angles. It's calm and relaxed, only the song of birds break the morning silence. Except for the ubiquitous crows, I don't know any of the bird species. They are colourful, small, sometimes loud, sometimes quiet and melodic. We stay a long time. We witness the place changing in the light and waking up.
Back in the hostel, we jump on the leftovers of breakfast while starting a conversation with the other travellers. After, I get ready to explore the city. Friends from Delhi have given me tips, and I'm determined to at least explore the culinary delights. However, plans change because J., the Frenchman with whom I hitchhiked through Iran, arrives in Jaipur. Of course, there will be a little reunion. Together we venture to two other fortresses (there are many in Jaipur), roam the streets and eat street food. With J. I move freely. Iran is still in my bones. As always, J. is much closer to the poorest of the poor. He has already slept in the slums, lived with all kinds of people. His stories are wild and I have to admit that I'm glad I don't have to experience them. Travelling like that consumes a lot of energy and brings insights that aren't too far removed from mine. I find contentment in my way.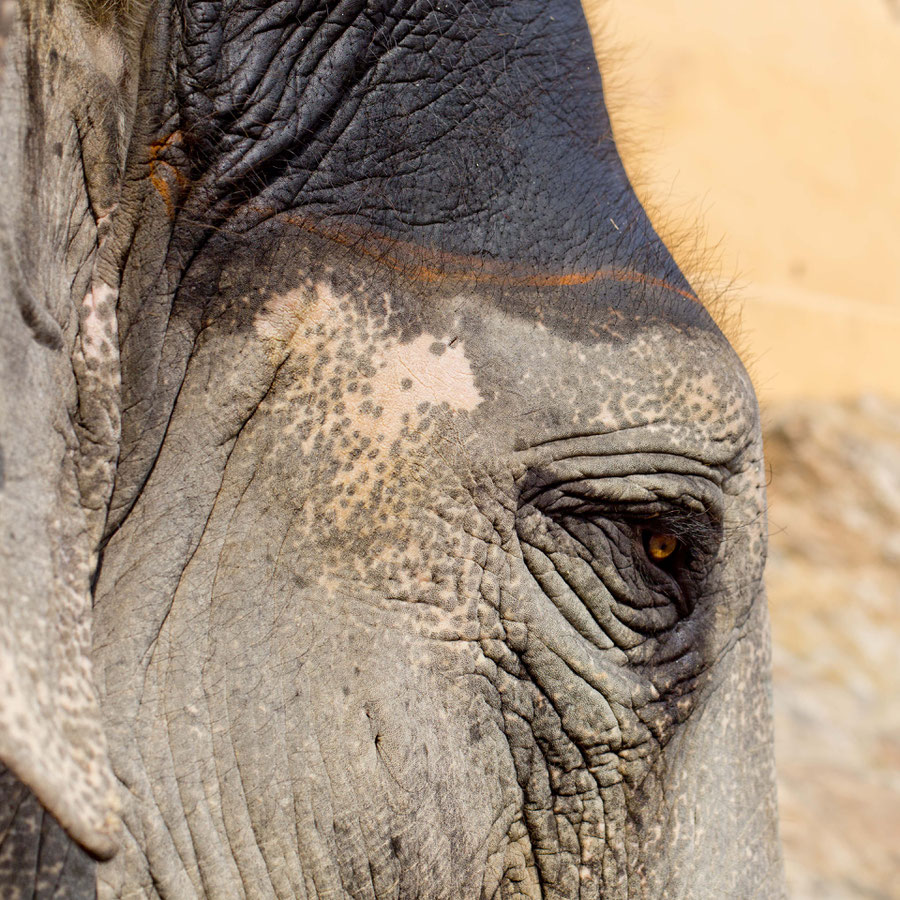 Roaming around with J. I see my first elephant. I expected it to be special, but it isn't. Although I'm impressed by these massive creatures, my eyes remain fixed on theirs. They seem to be half blind, their ivory teeth have been cut, and they move with slow listless steps. With disgust, my gaze falls on the feet of the elephant riders, who continuously kick them behind their ears and gag them with a rope. Here, every creature works for a living. The other tourists don't seem to mind.
India is as it is. Most people don't have a private toilet, every creature works, and nobody is ever really clean. Nothing is hidden. There is an honesty that impresses more than it shocks me. I quickly get used to people who are shitting in public. I even develop a fascination with the women who know how to use their skirts for protection in the most delicate moments. Their movements tell the story of centuries-old training. What irritates me the most is that when I'm on the night train, in the morning, you see how everyone uses the rails as a toilet. Not only in the city, but also in the countryside. My disgust soon turns into amusement. After all, in my life, I have never watched anyone else dump a load like that (except my nephews, but I feel like they don't count). What kind of society do I come from, where something so banal becomes such a taboo? Which way is preferable, Indias or Europes? After some reflection, I lean towards India.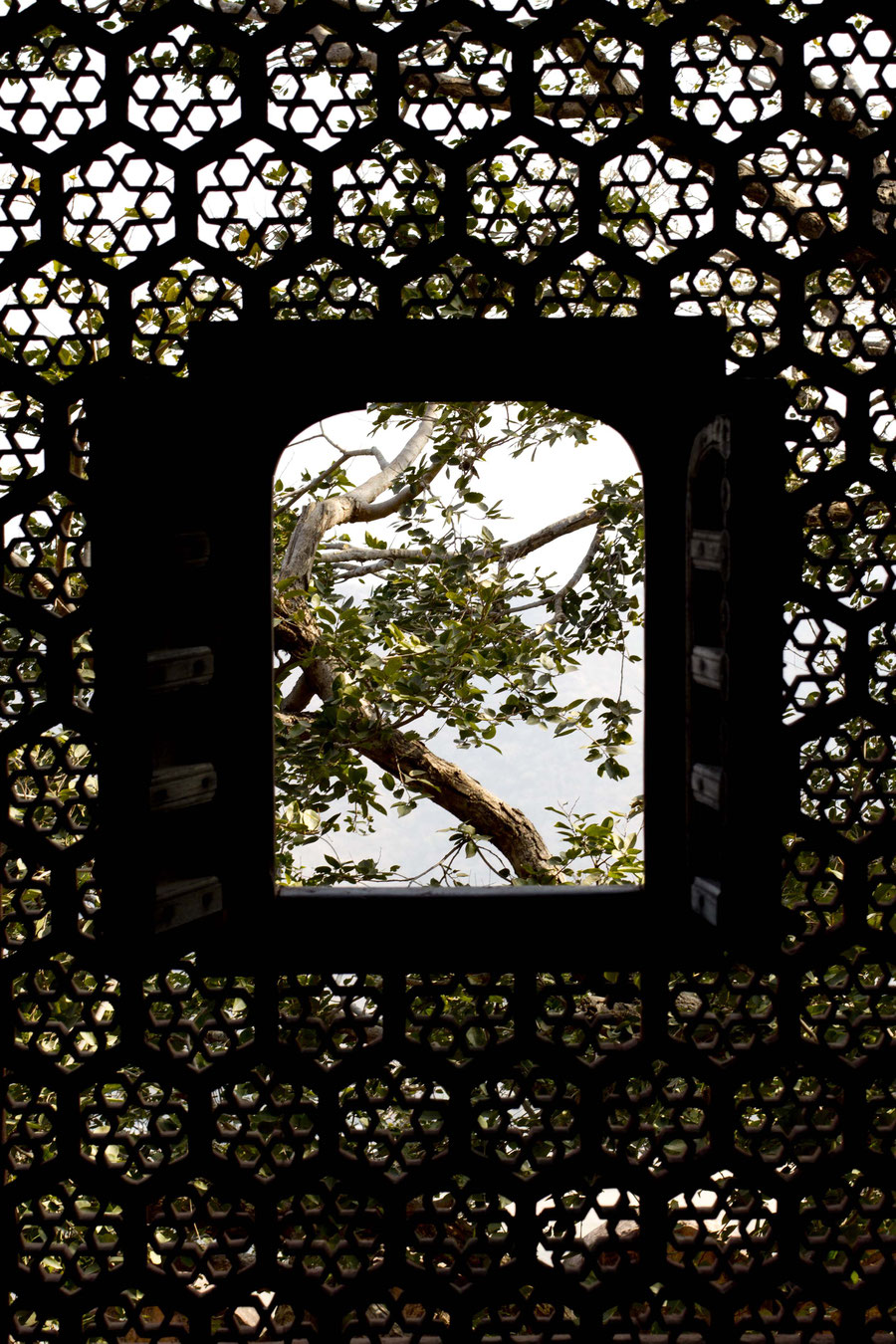 One evening, I watch a homeless person from the large window of my hostel common room. He is lying down to sleep on the sidewalk opposite. We are situated right next to a police station, and he seems to feel safe. As soon as he relaxes, a group of thugs arrives, takes the money out of his pocket and kicks him in the stomach. It takes a long time before he notices something, I suppose he took some drugs to sleep. That's the flip side. As colourful and instructive as India is in one moment, it's cruel and merciless in the other.
Aggra is the second stop on my tour of northern India, and although J. (my friend from home) has already warned me, I can't abandon the expectation of something spectacular. I'm bitterly disappointed. Although the pictures are just like out of a catalogue, the Taj doesn't offer more than symmetry. It's dust and stone surrounded by the most unpleasant people whom I have so far had the misfortune to encounter. But not only the Indians here are obnoxious, the tourists too. I witness a group of Europeans in poorly-bound saris, wearing black T-shirts underneath. In a group, they pose in front of the Taj Mahal. They are so uneducated, so culturally insensitive and thoughtless that they drive colour to my cheeks. The pitying looks of the Indian women make it only minimally bearable. They confirm that I'm not isolated in my view of things. The Taj is utterly disappointing as I have seen more breathtaking architecture in Iran. In Iran, these buildings are filled, not only with symmetry but with craftsmanship you can explore and experience. You can walk for hours from room to room and lose yourself in the ever-deepening symmetry. The Taj needs the story, the narrative to impress. Without it, it's an empty shell.