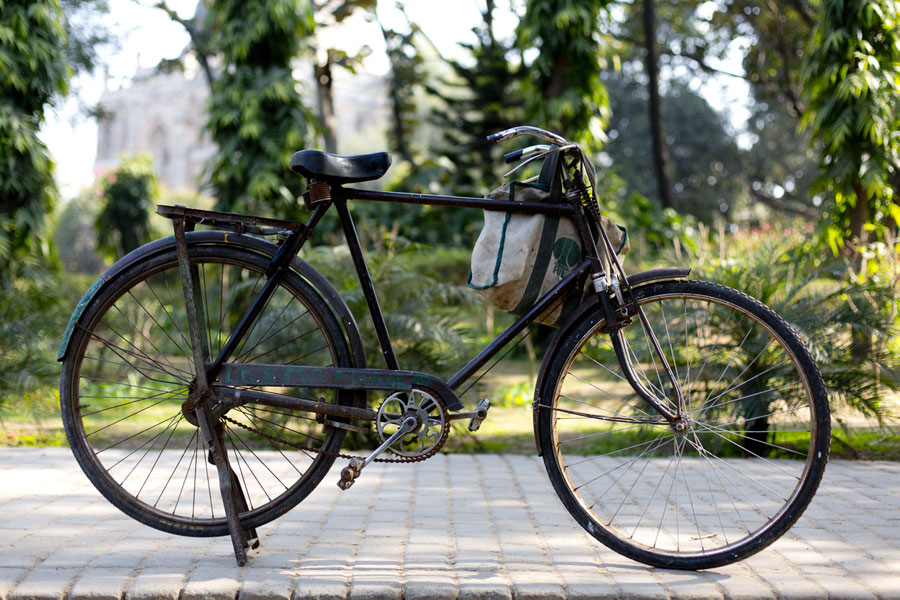 My first trip to Delhi takes me to Lodhi Garden. Online you can read a lot of nice things about it, J. has mentioned it at some point, and on the map, you can find it easily. Also, it's not a major attraction and promises a relaxed visit without too many people and tourist traps. A. drives me right up to the west gate, and we make sure to find each other in the same place in two hours.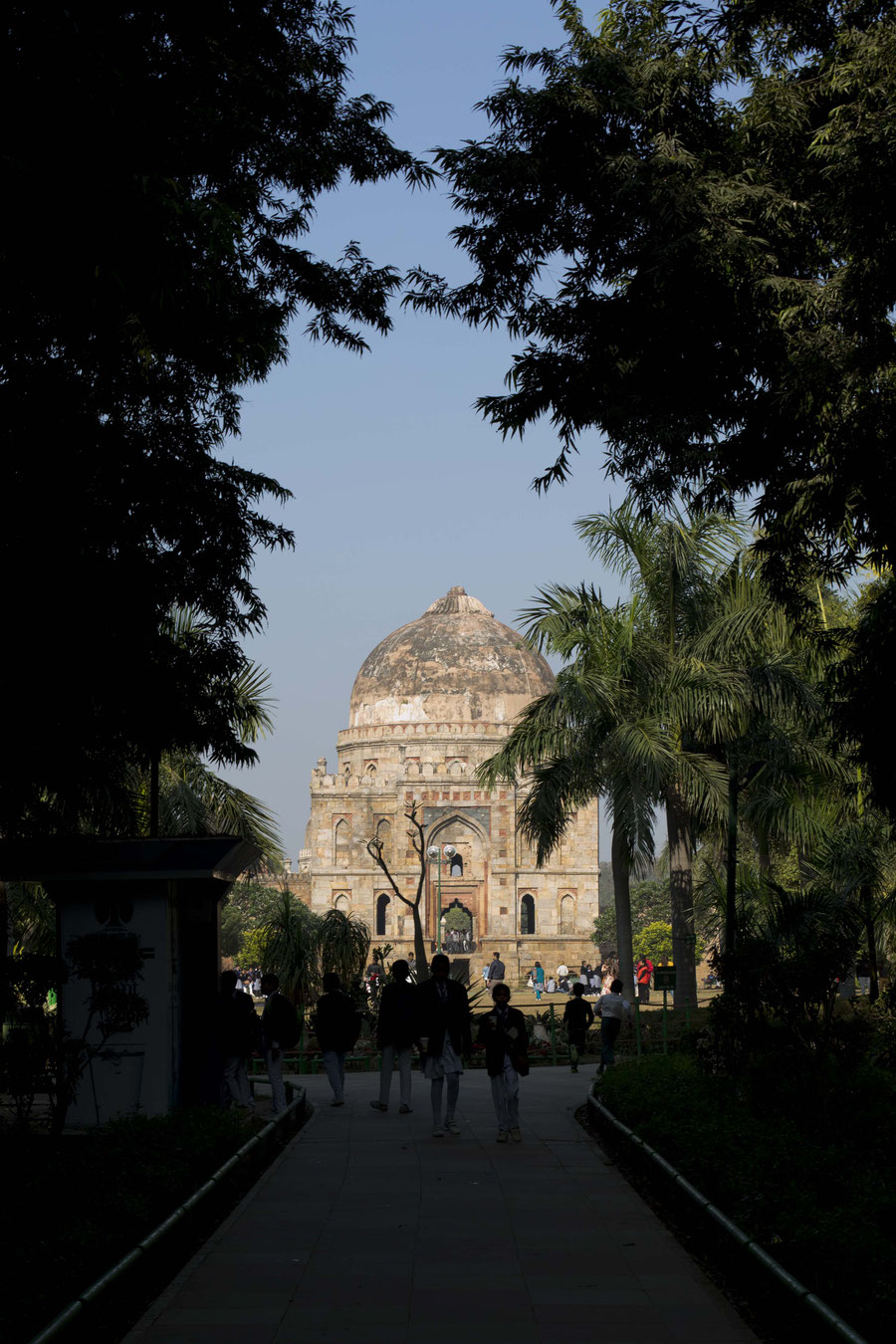 The park is large, the grass is dried up and strained, the sky is smoggy, and the leaves are dusty. The park is filled with school children, birds and rascals. I slowly make my way through and join the locals on the lawn, regardless of the fences surrounding it. There are magnificent old buildings surrounded by parkland. Unlike in Europe, they are not homes or palaces, but tombs. The bows oscillate differently than in Iran. They bend in swings until they tip together. Often the bows are doubled and magnificently decorated. The formal language is different, and yet the distance to the Iranian forms is not infinite. Here, I feel distinctly that my thread has been torn by flying to India. I have always been able to see these developments coming. Often there are countries where both cultures are present. One can see the Oriental forms next to those of the Middle East and compare them directly. Sometimes the change is hard, sometimes soft, but there is always a change that tells a story. I can't read the story between India and Iran because I had to get on a plane. That makes me sad. In the end, it just means that I have to pick up a new thread. I start anew here in Delhi.
I have divided my journey into seven sections. Right now, I am at the beginning of the third part of this journey. I haven't even made my way half-way-around-the-world, and yet I'm just a bit baffled. Should I pick up the thread again and if so, how? Never before has it become so clear to me how I perceive my world: I compare. The way I travel makes these comparisons possible. That's also what fascinated me about my studies. I am not interested in absolutes, but in differences and similarities. Here in Lodhi Park, I see many. And since I can't compare them to Pakistan, I return to the most familiar, the European. The green is as subdued here as the uniforms of our soldiers. The road dust lies like lead over the green and waits for the rain. You can see the trees, which are cleaned for some reason because they shimmer in light green. The birds are buzzing in droves across the sky. There are not only pigeons and small city birds. Here in Delhi, you can see birds of prey as well as city birds. They circle the tombs and as if by magic a typical Indian picture emerges in front of my lens: an old ornate building, the evenly grey sky that appears white through my lens and the muted greens of the trees. It is the image I have often seen in tourism brochures. Now, only Maharajahs, tigers, elephants and trained monkeys are missing, then the cliché would be perfect, and that is precisely the problem. It doesn't interest me. I want to escape the stereotypes. I don't want to take pictures of yogis or talk to Babas. I want to meet people like me. I want to know how our lives are similar and different. I want to compare things and people.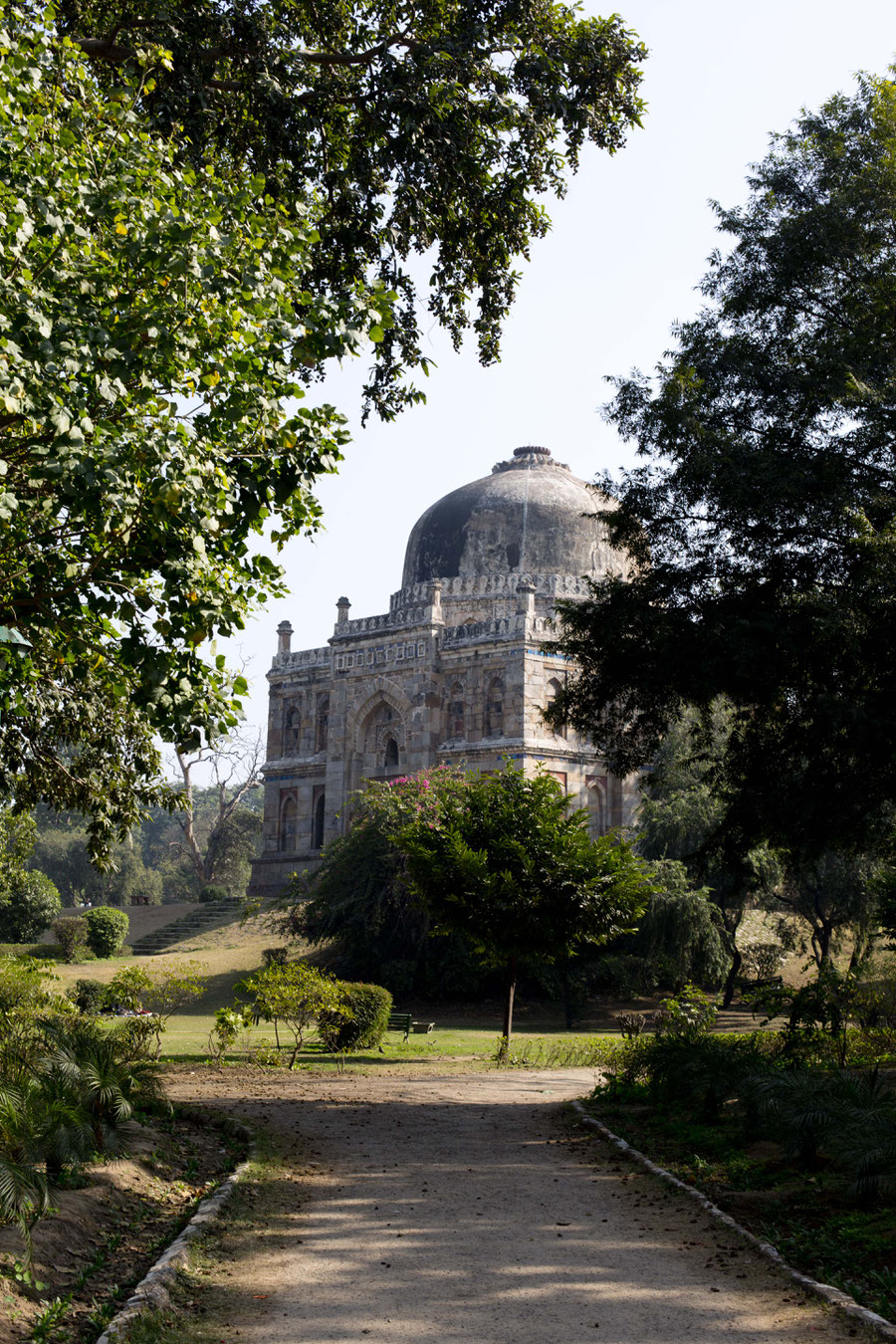 Even though nothing has happened and it's a beautiful walk, I return home exhausted. The smallest incidents worry me. I don't know how to classify them and am confronted with unsolvable (albeit insignificant) puzzles. Too fast, I'm overwhelmed.